Why focus on Minecraft? To answer that, we need to take a couple of steps back to offer a very short overview of what Minecraft is. Minecraft is one of the most popular video games ever created. Since its beginnings, as an independent game for the PC, the game has amassed over 200 million copies sold across all platforms and has 126 million monthly active users, making it the best-selling video game of all time. Purchased by Microsoft in 2015 for 2.5 billion dollars, Minecraft has come a long way since its origins in indie culture. Featured in films, documentaries, music videos, tv series, museums, art galleries, YouTube channels, educational settings, and even the UN, Minecraft is now part of mainstream culture
In terms of game design, Minecraft is an open-world game that has no specific goals for the player to accomplish, allowing players a large amount of freedom in choosing how to play the game. The creative and building aspects of Minecraft enable players to build constructions out of textured cubes in a 3-D procedurally-generated world. Other activities in the game include exploration, resource gathering, crafting, and combat. Multiple gameplay modes are available. There is survival mode, where the player must acquire resources to build the world and maintain health; creative mode, where players have unlimited building resources and the ability to fly; adventure mode, where players can play custom maps created by other players; and spectator mode, where players can fly around and clip through blocks but cannot place them.
More specifically, Minecraft is largely defined by the unprecedented creative output it has inspired, from children and adult-enthusiasts alike. Because of this playful potential for creativity and learning, it has been adopted into many educational and cultural spaces, as a way to engage young people in history, art, culture, social issues and a wide range of other subjects. Perhaps most unique though, is that children are leading the way and shaping how we engage with learning.
For us, Minecraft is not just about the change it can bring to the bigger picture but also about the changes it can bring to those who play and create, within it. As we continue to discover new ways as artists to create within the world of Minecraft, we keep in mind the power that this game holds. We work to create a platform that encourages curiosity and inspires people to foster positive, healthy change in their individual lives and the communities that they live in. It is not so much about teaching people how to play Minecraft, or even about teaching people through the medium of Minecraft, but more about simply stepping out of the way and letting children play. Minecraft is a space in which individuals and groups can explore, experiment with, share, and express ideas and experiences. It is this creative accessibility that gives people the opportunity to make the changes in themselves today that will go on to enable them to be the change-makers of tomorrow.
---
Minecraft Project:
What's In A Name?
Our names are important. A name has the power to signal belonging, it tells people what family we are part of. A name can also say something about our religion, or culture, or whether we are a boy or girl. Sometimes, people change their names later in life or choose to introduce themselves by a different name. A name is often the first thing we get to know about another person. Understanding more about where that name comes from can help us to build a better understanding of ourselves, and each other. What do you know about your name and where it comes from?
Start by creating a Mind-Map of your name (you first, middle and last name). Do you know where it comes from? Does it have a special meaning? Is it from a certain part of the world or a certain religion? Is it a family name? Do you have a family crest or emblem? Who chose your name and why? Do you share your name with someone else you know, or someone important from history or literature? You will need to do some research to get the answers. Ask your family, or look it up online or in the library. There are lots of books and websites that explain the meanings and origins of names. Does your name reflect something special about you? Maybe the meaning of your name fits who you are, or maybe it is the very opposite? What does your name sound like? Is it easy or hard to pronounce? Do people get it wrong a lot? How does it feel when people say your name? Do different people call you different things? Does your name make you think of other things? Maybe it makes you think of the sea, or mountains, or storms, or a bright fire? Have a think about this - how does your name make you feel? What do you think of when you hear your name? Make a note of everything you can think of.
Now, you are going to create a Minecraft Rollercoaster ride based on your name. Rollercoasters are fun and fairly easy to build in Minecraft and are perfect for creating a short visual story. To start your build, write down the general themes of your name and pick at least ten themes for your builds. Using a flat world or a vanilla landscape, lay down your Mine-cart track. You want it to last at least one minute, but don't make it so long that your traveller has fallen asleep before the end! Don't think too hard about it - just build them quickly and move on to the next build. This build will use Redstone and Mine-carts. For additional fun, why not add fireworks at the top of hills using a detector rail and a dispenser full of fireworks.
Once you have built you rollercoaster, you can invite friends to come and play — or why not get together with friends and build a theme park based on your names?
If you are interested in exploring this further, you can find the full workshop in our book, The Unofficial Minecraft Life Hacks Lab For Kids The Unofficial Life Hacks Lab For Kids: How To Stay Sharp, Have Fun, Avoid Bullies and Be the Creative Ruler of Your Universe (Quarry Books, 2019)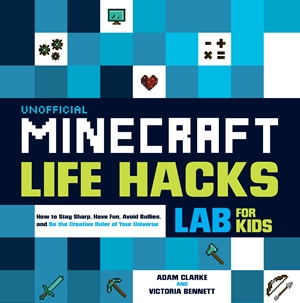 Amazon review: "...In a world where there is so much toxic behaviour online and video games can often bring out negative emotions in people, it's so refreshing to have literature that emphasises the positive and relates to the real world in a constructive, beneficial way. The activities are things that can be done independently and with friends and family in an easy to understand, progressive format. These range from classic childhood activities such as building a den/fort to unique activities of discovery and questions about global issues, there is something for everyone here.

In my opinion, this is the best Minecraft guidebook out there. It doesn't just guide people in how to play, it shows how to use the game as a tool to better yourself, and possibly even others too..." (Joe Hammond)
---
Cool Free Minecraft content:
Bedrock (pc, console)
JIG'S GUIDE: REDSTONE BASICS
The best way to get help, this world teaches you the basics of Redstone! Complete the voiced tutorial and follow easy instructions as you learn about everything from Buttons to Redstone Torches. + Dozens of chambers showing every Redstone component. + Both voice acting and text. + Education made fun! + Endless sandstone world to test in. + Play with Redstone at your pace.
Open up the Marketplace on your Minecrafting device and download.
JAVA (Mac, PC, Linux)
[ADVENTURE MAP] THE TOURIST
A huge adventure map in PARIS you'll never forget ...
including :
- 4 hours of amazing experience
- a great screenplay
- epic builds such as the sacré coeur basilica of montmarte
- 5 exclusives redstone mini games
- soundtrack by cool rock bands
- jump , sprint and more...
some say :" woa ! fantastique ! "
https://www.planetminecraft.com/project/adventure-map-the-tourist/

---
What we are playing
Spiritfarer
Play as Stella, ferry master to the deceased, a Spiritfarer. Build a boat to explore the world, then befriend and care for spirits before finally releasing them into the afterlife.
A unique, endlessly varied adventure!
Farm, mine, fish, harvest, cook, and craft your way across mystical seas. Unwind for hours into cosy and relaxing gameplay. Join the adventure as Daffodil the cat, in two-player cooperative play.
---
What we are reading
Blood, sweat and pixels. by Jason Schreier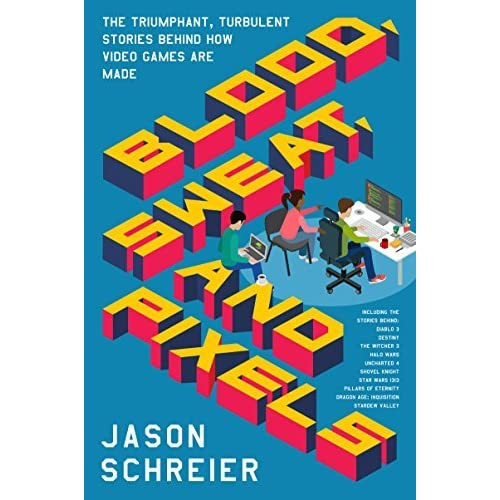 https://www.amazon.co.uk/Blood-Sweat-Pixels-Triumphant-Turbulent/dp/0062651234/ref=sr_1_1?crid=1AOA2LI9C72K&dchild=1&keywords=blood+sweat+and+pixels&qid=1598201594&sprefix=blood+sweat%2Caps%2C150&sr=8-1
---
What we are selling - Wizard and Wyld
BRAIN-BOX - Minecraft Marketplace
Welcome to the Brain-Box, a survival ant-farm style map in a giant human head. Explore the cerebrum and discover hidden parts of the mind. Gather your limited resources and prepare to fight and survive.
Open up the Marketplace on your Minecrafting device and download.
---
Book a session with us…
Want to learn more about home-educating, video-games and how to make the most of digital online learning spaces? We can offer bespoke 1:1 video-linked consultancy and small-group webinars for parents, educators and organisations. Email us for more information: minecraft@thewizardandwyld.com
Next week - Future perfect…